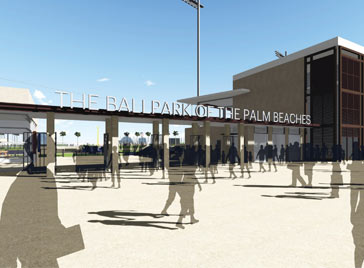 "Palm Beach County is Major League!"
New beginnings and a fresh start
Major league changes are coming to Palm Beach County. With construction beginning on the new spring training site, Palm Beach County is set to become the spring training home of Major League Baseball. Along with new beginnings in spring training baseball, we are also creating some major league changes in Palm Beach County Day. Our yearly event is heading into the digital age as we make registration and room reservations easier to make and manage. Registration for Palm Beach County Day 2016 will take place online. Using Eventbrite, an event management software, you can register for Palm Beach County Day from your computer, tablet or smart phone. Just go to this link: www.pbcgov.org/pbcday, or scan the code on the registration form to register. Once we see that you have registered to attend PBC Day, the Public Affairs office will e-mail you a link and code to book your hotel room. Yes, you may book your own hotel room in the PBC Day block at either the Aloft or DoubleTree hotels in Tallahassee once you are successfully registered for the event.
This year, we have an equal number of rooms at both hotels, offering you the choice to stay at whichever hotel you would prefer. For more information or for help registering, please call Public Affairs at (561) 355-2754.